Our Story
The Meridian Food Bank is an all-volunteer organization dedicated to providing emergency food aid to our neighbors in need. Our goal is to help anyone who is hungry and asks us for assistance; our ability to help is determined by the amount of food and money donated to us.

0
POUNDS OF FOOD

0
VOLUNTEER HOURS

0
ENOUGH TO FEED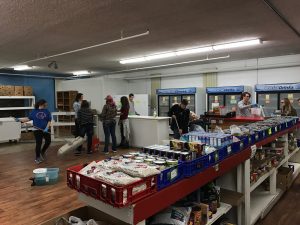 Thank you to System Kleen & Restoration Inc. and the Haven Cove Ward for cleaning our carpets, floors, shelves, and all other areas of the Meridian Food Bank. Our volunteers and patrons appreciate the hard work you put in to keep our food bank clean.
Read More
Thank you so much to Boy Scout Troop 62 for collecting over 9,140 pounds of food during the "Scouting for Food" food drive. This donation will create over 4,570 meals for those that are hungry. You guys are great!
Read More